Packaged Facts estimates that dinner daypart restaurant sales dropped 5% to $174 billion in 2009, and is forecasted to drop another 3% in 2010. But all is not lost, Packaged Facts research indicates a spending renaissance is already underway.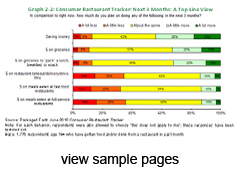 By combining investment-grade industry analysis with key trend analysis, Dinner Trends in the U.S. Foodservice Market not only helps foodservice industry participants address challenges unique to the dinner daypart but also helps participants contour their strategies to meet consumers' evolving needs.
By providing insight on the dinnergoer's decision-making process, this report provides direction on how and why the consumer decides on a specific restaurant from which to obtain dinner, and how and why that consumer decides what to order from the menu.
Selection factors are analyzed according to the following categories:
convenience;
dinner menu items;
meal cost thresholds;
dine-in and takeout partner;
menu positioning and advertising;
health positioning;
and bundled offers.
Research Features:
"Share of stomach" restaurant dinner sales analysis, which includes 5-year sales trends for the fast food/quick-service restaurant and full-service restaurant segments, with forecasts for 2010 and 2011.

Guest traffic frequency analysis of leading dinner-centric restaurant brands, giving a directional perspective on current sales trends.

Trended analysis of demographic dinner daypart expenditures, including 4-year sales historical sales trends and spending according to key demographics, such as age, income, region, and race/ethnicity.

Thorough psychographic analysis of Budgeters, Alcohol Indulgers and Healthy Eaters, key psychographic groups shaping the dinner daypart.
The report also conducts trend analysis on key dinner-centric restaurant brands, including menu strategies and new menu item introductions, core users; snacking tendencies; food, diet and health attitudes; as well as trends sales metrics. We focus on recession-driven responses and menu strategies taking the brands into 2011.

Coverage extends to fast food/QSR, coffeehouse, smoothie shop, ice cream shop, family restaurant, casual restaurant, and fine dining restaurant segments; as well as prepared foods segments at convenience stores/gas stations and grocery stores/supermarkets.
---
Dinner Trends in the U.S. Foodservice Market is part of Packaged Facts' new Foodservice Market Insights collection. Additional titles include:
The insights you need, all in one collective series from Packaged Facts. Download our Foodservice Market Insights brochure and get the full details on data methodology, foodservice consumer perspective and analysis, and more.